Former Starbound Studios student Elliott Graham and his Canadian Novice Silver Medalist ice dance partner Hannah Whitley rise to the top performers.
Starbound Studios
thanks Sharon McHoull Graham, Elliotts' mom, who says: "Thank you Brenda McDooling Duce for teaching Hannah Whitley and Elliott Graham about musicality! It sure does help in this sport!"
Skating club flashes back to the 70s for 40th anniversary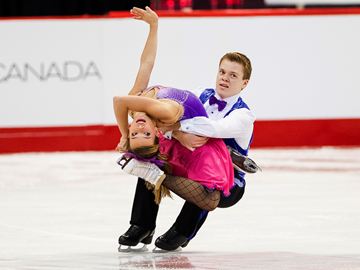 Guest skaters
Hannah Whitley and Elliott Graham will be skating at the Wasaga Beach Figure Skating Club's carnival Feb. 22 celebrating 40 years on ice.
Wasaga Sun
By
Trina Berlo
The Wasaga Beach Figure Skating Club is celebrating 40 years on ice at this year's carnival with an ode to the 1970s.
Almost 70 skaters will perform different routines to the popular music of the era during two shows on Saturday, Feb. 22, one at 2 p.m. and another at 7 p.m.
Admission costs $8 for adults and $5 for students and seniors. Adults can get a special rate of $12 to get into both shows.
This year's special guest skaters are Canadian novice silver medalist ice dance partners Hannah Whitley and Elliott Graham.
The pair will perform their winning routine and a newly choreographed piece.
Winners from club level competition will also be showcased during the carnival and seven senior skaters will do solos.
"Each one of the different stages of skating will do a little group number right down to beginner skaters who have never been on the ice until this year," said Wasaga Beach Figure Skating Club board member Heather Cavill.
Advanced Can Skaters, intermediate and senior skaters will also do a repeat performance of their Skate Huronia competition routine last month, skating to Roar, which earned them a silver medal.
"It's fantastic," said Cavill, adding it's like an ice show number.
Cavill said figure skating programs have been in Wasaga Beach longer than 40 years but the anniversary marks the formation of the existing association.

Subscribe in a reader